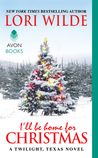 I'll Be Home for Christmas
by
Lori Wilde
My rating:
3 of 5 stars
One thing I love about Wildes books is her characters and the way they come to life. In this story Gabi and Joes sister switch houses for the holidays. Gabi is trying to create the life her and her deceased brother always dreamed about but she never thought she would fall so much in love with the town, the people and most of all Joe.
This book reminded me of the movie the holiday and this book actually had me thinking if i could ever switch houses and lives with someone I never met for 2 weeks.
Wilde did an excellent job in having Gabi fit right in and become part of the town for the amount of time she was there.
The romance between Gabi and Joe was the highlight of the book for me. Although there relationship started off a little on the slow side the author made it believable on how they got together and fell in love.
I have only read a few books in this series so there were some characters I didn't know or didn't remember but it made me realize how much I missed this town. I want to go back and read the whole series from the beginning. I hope Wilde keeps this series going for a long time.
View all my reviews