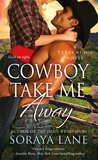 Cowboy Take Me Away
by
Soraya Lane
My rating:
4 of 5 stars
Lane is a new author to me and I really enjoyed reading this book. Although this is the second book in this series I wasn't lost or felt like I was missing something. I do want to read the first book to get caught up on the King men.
This book is basically about second chance love. Chase and Hope went to college together and they bonded over coming from wealthy ranchers. They become close and really good friends. The day they graduated they ended up drinking too much and sleeping together. Then went there separate ways.
Now four years later they run into each other and Chase wants to get to know Hope all over again but there is a big secret that comes out and now Chase has to decide if he can get past the hurt and betrayal.
I really liked the story and the characters. I enjoyed that these two knew each other before but now they are learning who they are now.
I thought Lane did an excellent job in telling there story and having the romance between them go slow. The build up of what was going to happen and if they could make it work was the best part.
I loved Chase's brothers and how close they were. There was some funny banter and they were an excellent team when they are together. They also gave some good advice to one another which only made me love them more.
I can't wait for the next book!! This is definitely worth reading if you love cowboys and second chance love stories!
View all my reviews