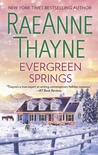 Evergreen Springs
by
RaeAnne Thayne
My rating:
3 of 5 stars
This story was so sweet and a lovely romance to read. I read the first book in this series and loved it. So when I saw this book I thought it was the second the book but it was actually the third. Although it didn't matter because this book could be read as a standalone.
I loved Devin and Cole! I enjoyed the road to their relationship although I guess I did expect more then a few stolen kisses during this book but I still thought it was sweet. The way the town pulled together to help Cole and his children during a difficult time was sweet and touching.
Devin was strong and has a successful career but you can see right away something is missing from her life. She doesn't want to get close to Cole and his kids but she does while she is helping him out and she couldn't help herself.
Cole didn't have a easy life from a ex who wouldn't let him see his kids, to being an drunk and ex con. He is trying to do the best for his two children who lost their mother recently. He wants to make this ranch work so his children have a legacy.
There was a few questions that were left unresolved so I didn't see why those things were brought up such as his exs mother trying to get custody for his kids but I just assumed she didn't. The end actually ended pretty fast and I kind of wanted more.
Hopefully in the next book we will get to see these characters again.
View all my reviews