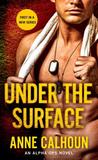 Under the Surface
by
Anne Calhoun
Blurb
Welcome to Eye Candy, the East Side's hottest nightclub where the bartenders are hot, the cocktails are fancy, and danger lurks just under the surface…

Eve Webber, the gorgeous and savvy owner of Eye Candy, knows better than anyone that growing up on the wrong side of the tracks comes with certain complications. Determined to run a clean business and fix up the East Side, Eve's plans get temporarily stalled when a potential new hire walks into her bar. The sexual chemistry crackling between them is a potent distraction…even if she refuses to mix business with the promise of pleasure.

Detective Matt Dorchester lives by strict rules that have kept him alive in impossible situations. When his latest undercover assignment has him playing a bartender, his desire for the passionate owner has him breaking every single one. Eve is in danger and her life depends on his secrecy. But once their attraction reaches a climactic conclusion, Matt must make a desperate choice: Tell her the truth about who he really is―or risk a once-in-a-lifetime love to save her life?
Mass Market Paperback
,
350 pages
Expected publication: May 31st 2016 by St. Martin's Paperbacks
Review:
This is the first book in this series I read and the blurb really caught my eye and when I received it for review I actually started it right away. Once the story took off I didn't want to put it down.
In this book we meet Eve who is a former cocktail waitress turned business owner. She runs Eye Candy which mostly caters to women. Eve is looking for a new and hot bartender when "Chad" comes in looking for a job. But Eve has other stuff on her plate then just looking for a bartender. A old friend of sorts wants Eve to launder money out of Eye Candy and of course she says yes and goes right to the police with this information.
The police department isn't sure if they can trust Eve one hundred percent so they put an undercover office posing as a bartender. Enter Matt aka chad. Matt has one job but the more time he spends with her the harder it is to keep his cover and his hands off her until someone threatens her life and all bets are off.
From the beginning of the story I really liked Eve. She is smart, funny and quick on her feet. Her background I found interesting and only made her more likable as a heroine for me. Matt was quiet, serious and the total opposite of Eve but when these two were around one another they really did light up the pages with their sparks.
Since this was a romantic suspense Calhoun dialed down on the sex scenes (bummer lol ) but she really did focus more on the romance that was building which I loved. The romance starts off slow with a couple kisses and cute banter but once these two got going I started to really enjoy the story much more.
The secondary characters also stood out in their own way. I'm pretty sure this series main focus will be the men and women of the police department protect the hero/ heroine from whatever is in store for them. Already I'm looking forward to see where this series will go and who will be next to find their HEA.
View all my reviews