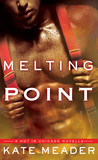 Melting Point
by
Kate Meader
My rating:
4 of 5 stars
I didn't know if I was going to enjoy Gage's story because it was a novella but I really enjoyed getting to know him a little better. In the first book he is sunshine and flowers. Always happy and sexy as hell. In this novella you get to see a different and a little more serious side of him which I loved.
Gage and Brady turned out to be very good for one another. I enjoyed how Meader wrote Brady scarred from his past inside and out and Gage was his total opposite. I would have liked to see more of the characters from the first and second book but since this was a novella it made sense just to be about them.
I adored how hard Gage tried with Brady and how sweet he was. Finally when Brady gives in it the pages start to steam up. The more I read of this series the more I enjoy it! Meader has a special talent of pulling you in this fantastic world she had created and keeping you there.
I have high hopes for this series and I highly recommend getting to know the Dempsey family!
View all my reviews