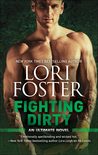 Fighting Dirty
by
Lori Foster
My rating:
4 of 5 stars
SPOILER ALERT !!!!
Foster delivers another strong and entertaining novel in the Ultimate series. In this book we finally get Armie and Merissa woo hoo! I was hoping it would be worth the wait and oh man I completely devoured this book in one sitting.
In the previous books adding up this one we see the attraction between Armie and Merissa and with each book it grows. This story starts off with them basically avoiding one another and Armie telling her she deserves better. Then the action starts. Merissa's bank is robbed and Armie is there to save her. They become closer and then sure enough they both get on the same page.
What made this couple so believable was the past books and what they had to go through to get to the "now". Did they rush into a relationship? Not at all since it has been building over time which I happened to love. It kept me intrigued on what would happen and when.
Without giving a lot away Merissa has a hell of a couple weeks and Armie does in his own way. These characters are both going through different things but when they are together they are stronger.
One of my favorite parts that is also a laugh out loud moment is when Merissa writes " Rissy was here" in permanent marker on Armies ass. The way Foster wrote that scene was absolutely hilarious.
This book is a great addition to this series and while this looks like the last book fear not! It looks like the bodyguards will each get there own book! * happy dance* hopefully Leeses book will be the first in the brand new series!
Add this to you TBR for February 2016!!!
View all my reviews