I don't know about everyone else but this month I totally slacked on posts. I am hoping April will be a better month all in all. For the last few days of March I will try and step it up :)
I hope everyone has a great end of the month and don't forget to sign up for the Easter Hop...Add the button and publish your post on the hop. If you have a problem remembering like i do (lol) schedule your blog post before then. I am so excited to see what everyone is doing. Also don't forget to tell your friends. The Hop is open to ALL bloggers and Authors who would like to participate in meeting new book lovers and Authors.
Please find the button below to add to your page so they know you are in the Hop.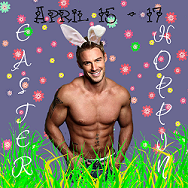 <a href="http://lushbookreviewss.blogspot.com/" target="_blank"><img border="0" alt="Easter Hoppin Blog Hop" src="http://i946.photobucket.com/albums/ad301/jojosbookcorner/Misc%20pics/hop3small.png" /></a>
Have a fabulous weekend everyone :)